Erick's Staff Profile
- Contact Me -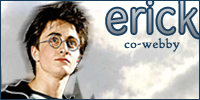 Position:
Age: 15
Birthday: January 28th
Gender: Male
Location: United States
Favorite Quote/Excerpt: Stupid People Shouldn't Breed
Favorite Color(s): anything
Favorite Harry Potter Book: Book 6
Favorite Movie(s): White Chicks, Anchorman, Dodgeball, While You Were Sleeping, HP goes without saying =P
Favorite Food(s): Italian
Hobbies: Music, Art, History (i know it sounds weird), TV, Coding
Biography: Everything before I was 5 is a bit fuzzy, lol. But I went to school in Florida. Then New York. And now here I am in little old Rhode Island. I'm currently a sophmore and I couldn't be happier. Music is pretty much my life. I'm in the marching band (drumline). I play the tenors (quints, quint toms) and I'm also in the Wind Ensemble and Concert Band. I love TV. If theres a good movie playing, I'll be there watching it. Thats about it. Any questions feel free to ask through the Feedback Form!
Other: Nope.